What is a Pediatric Dentist and How to Get Your Child's First Dental Visit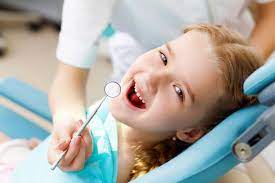 Pediatric dentists are a type of dentist who specializes in the care and treatment of children. They can provide a wide range of services to children, including routine exams, dental cleanings, and emergency visits when necessary.
When you think about your child's oral health, it is important to remember that their teeth will grow throughout their life. If they don't have regular checkups with a pediatric dentist, they could end up with dental problems later on in life that could result in pain or even tooth loss.
What is a Pediatric Dentist and What Do They Do?
A pediatric dentist is a doctor who specializes in the oral health of children.
The role of a pediatric dentist is to provide care for the teeth, gums, and mouth of infants, children, and adolescents. Pediatric dentists work with parents to teach them how to care for their child's teeth and gums daily. They also provide information on fluoride treatments and dental sealants.
A pediatric dentist may also be involved in educating schoolchildren about oral health topics such as nutrition, sugar consumption, flossing habits, and brushing techniques.
Why Is Attendance of a Pediatric Dentist Important?
Pediatric dentistry is a branch of dentistry that deals with the health of children. Pediatricians need to attend to their patients because it helps them in understanding their needs and provides preventive care.
Pediatric dentists are trained to provide care for children from birth through adolescence, including orthodontics, oral surgery, and endodontics. They also provide education on preventing dental disease in children.
Pediatric dentists have several responsibilities that include:
– Providing preventive care to children
– Determining the need for restorative treatment
– Diagnosing and treating injuries involving the mouth, teeth, or , jaw
– Providing education about oral hygiene
– Prescribing medication pediatric dentists are specialists in the dental care of children. They undergo additional training and education.
How to Get Your Child's First Dental Visit
The first visit to the dentist is a big deal. It can be an overwhelming experience for children, especially if they are scared or nervous.
The first visit to the dentist is not just about getting a cleaning and checkup. It's also about educating your child on oral hygiene and what to expect from the visit.
Here are some tips for getting your child's first dental appointment:
– Be prepared:
Find out what type of insurance your child has and make sure you have all of their records in order.
– Have a plan:
Figure out what you want to talk to your child about during the appointment and how you want them to feel during it.
– Make it fun:
Let your child pick out their favorite toy or book from the waiting room, or bring along something that reminds them of the home so they feel comfortable while they're away from home.
What are the Common Dental Procedures?
The most common dental procedures include teeth cleaning, scaling, root planing, and fluoride treatments.
Dental procedures are a routine part of modern life for many people. However, it is important to understand the risks involved with these procedures and how you can protect yourself from them.
The most common dental procedures include teeth cleaning, scaling, root planing, and fluoride treatments. These are the most commonly performed dental procedures by children dentist bundoora.